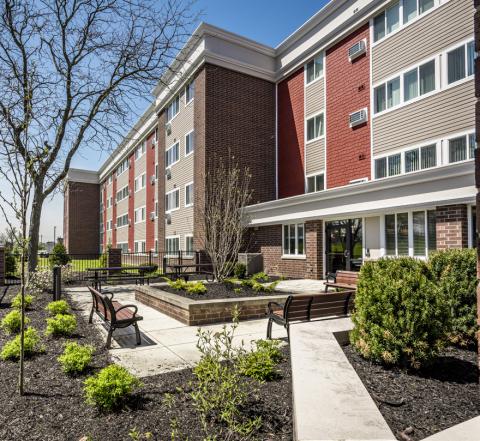 Residents in low-income communities not only experience disproportionately high energy burdens but increased disparate health outcomes as a result of living in housing that is energy inefficient in areas with high pollution.  While advocates have worked to improve outcomes for these communities for years, decarbonizing low-income communities has not always prioritized equity and the needs and voices of residents. NHT recognizes this and is proud to center resident engagement in efforts to decarbonize vulnerable communities and improve both the physical and financial health outcomes of residents.  
Our carbon emissions reduction work seeks to
Recognize and lift up the value of lived experience 
Ensuring that we not only partner and compensate with those currently living in the communities we work to impact, but that our internal teams are made up of those with both technical expertise and lived experience.
Diversify partnerships

Seeking to include frontline organizations that are already serving residents and provide them with the support and resources to continue that work.
Incorporate data from healthcare providers 
Helping ensure that we are working with the communities most in need and to add additional measures to track the results of our work as it progresses.

Equitable decarbonization in Washington, DC 
Through a grant from JPMorgan Chase,  NHT will partner with a range of stakeholders, starting with residents, and also including building owners, capital providers, and policymakers to support and increase investments in decarbonization efforts in affordable housing. This will not only reduce utility expenses associated with housing, but also contribute to better health outcomes for residents. 
NHT is grateful to the following funders for supporting our equitable decarbonization work: Energy Foundation, JPMorgan Chase & Co., and Wells Fargo.
Strengthening programs to benefit low-income residents
The Maryland EmPOWER program has been considered a model around the country. The program is funded by a surcharge on every resident's utility bill, which is then used to support energy efficiency retrofits to residential buildings.  However, low-income residents are paying a disproportionate amount into the program and not receiving an equitable share of the benefits. As we work with advocates and decision-makers to ensure low-income Marylanders receive their fair share of benefits, NHT continues to be a leader in the reshaping of this program by providing technical expertise that is informed by our years of experience in energy efficiency and decarbonization policy, as well as the stories and experiences of residents who formerly and currently live in the communities we work to impact.