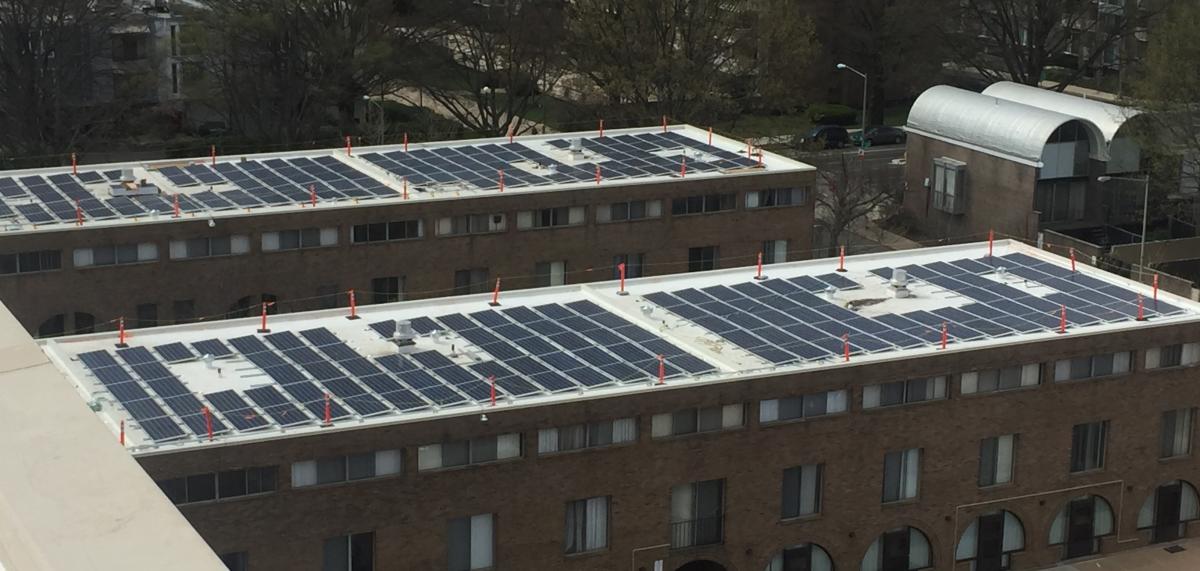 Committing to Climate-Friendly Housing
Inefficient energy use and lower environmental standards can seriously and disproportionately affect affordable housing residents and owners. Residents are made to bear low indoor air quality and high utility cost burdens, and owners pay more in maintenance and operations, taking away from resources otherwise available to upgrade the property.
According to the US Green Building Council, buildings account for nearly 40% of all greenhouse emissions. With a portfolio of over 4000 units, National Housing Trust recognized these impacts, and as a result is committed to creating greater energy efficiency and resilience in our properties through the Better Buildings Challenge and the Better Climate Challenge. The lessons learned so far help inform our own future commitments and the policy-informed practices that we bring to our advocacy, asset management, and development practices.
NHT's Goals
Reduce GHG emissions intensity portfolio-wide by 50% over 10 years
Reduce portfolio-wide energy intensity by 20% over ten years (COMPLETED)
Meeting the Challenge
NHT first began this journey in 2013 by committing to the Better Buildings Challenge, led by the Department of Housing and Urban Development (HUD) and the Department of Energy (DOE), This Challenge calls for participants to reduce energy use by 20% over ten years. In 2023, we achieved this goal. Building on what we learned, NHT recently committed to the Better Climate Challenge (BCC). Through the BCC, NHT has pledged to the goal of reducing portfolio-wide GHG emissions intensity by 50% over ten years.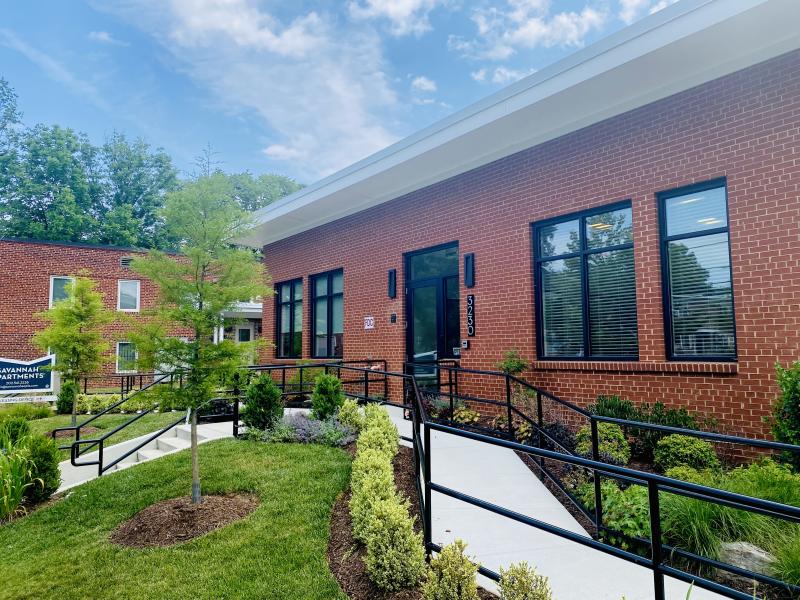 NHT gained valuable lessons in working to achieve our reduced energy goals through BBC. Data and reporting limitations threatened to hamper our commitment, so the NHT team worked diligently to improve the quality of our portfolio's historic utility data. Cleaning up our data and gaining a better understanding of our usage accelerated meeting our goals, and established a firm foundation for BCC commitments going forward.
To achieve the BCC, NHT developed a clear and customized roadmap to guide choice points in our portfolio with an eye to reducing our emissions intensity. Using the GHG reduction calculator developed by Stewards of Affordable Housing for the Future (SAHF) and a baseline year of 2018,  we determined that green certifications on four of our recently completed developments position us well.  These energy-efficient projects lower NHT's overall portfolio intensity and boost progress toward our goal. In addition, we are prioritizing decarbonization improvements among our pipeline of redevelopment and new construction projects to deliver an overall lower emissions intensity for our portfolio.  Interventions include electrification of systems, energy efficiency improvements, and resilience hubs (solar plus storage)
As a result, NHT expects to make decarbonization investments and achieve green certifications for the majority of NHT's upcoming construction pipeline. Five properties are poised to achieve Enterprise Green Communities base or "Plus" certifications through investments including electrification, solar, energy-efficiency and/or resilience hubs.
An important lesson learned in BBC implementation -- and another key strategy in achieving our BCC goals -- is to train our asset management team to identify and execute opportunities for energy and emissions improvements within our existing properties. NHT staff completed ASHRAE Level II energy audits at six midcycle properties with high emissions intensity levels. Following each audit, staff prioritized upgrades with the greatest return on investment, completed an electrification assessment, and developed a long-term capital planning strategy for each property.
NHT Green Certified Properties
Liberty Place
Washington, DC
New Construction
LEED Gold
 
Savannah Apartments
Washington, DC
Recapitalization
Enterprise Green Communities (EGC)
 
The Refinery
Abbeville, SC
New Construction
ENERGY STAR
Mass Place Apartments  
Washington, DC
Recapitalization
Enterprise Green Communities (EGC)
Next Steps
NHT will continue to identify opportunities to embrace energy-efficient, decarbonized housing in our own portfolio (particularly using funds made available through the Inflation Reduction Act) and model replicable approaches to inform the broader industry. NHT's new strategic plan commits to building organization-wide internal capacity to advance sustainability and decarbonization through design guidelines and playbooks, implementing pilot projects that center resident needs in electrification and energy-efficiency investments, and achieving EGC+ certification on NHT developments going forward. NHT will continue to share our practice-informed insights with the broader industry through advocacy, capacity-building programs, and our energy solutions consulting.