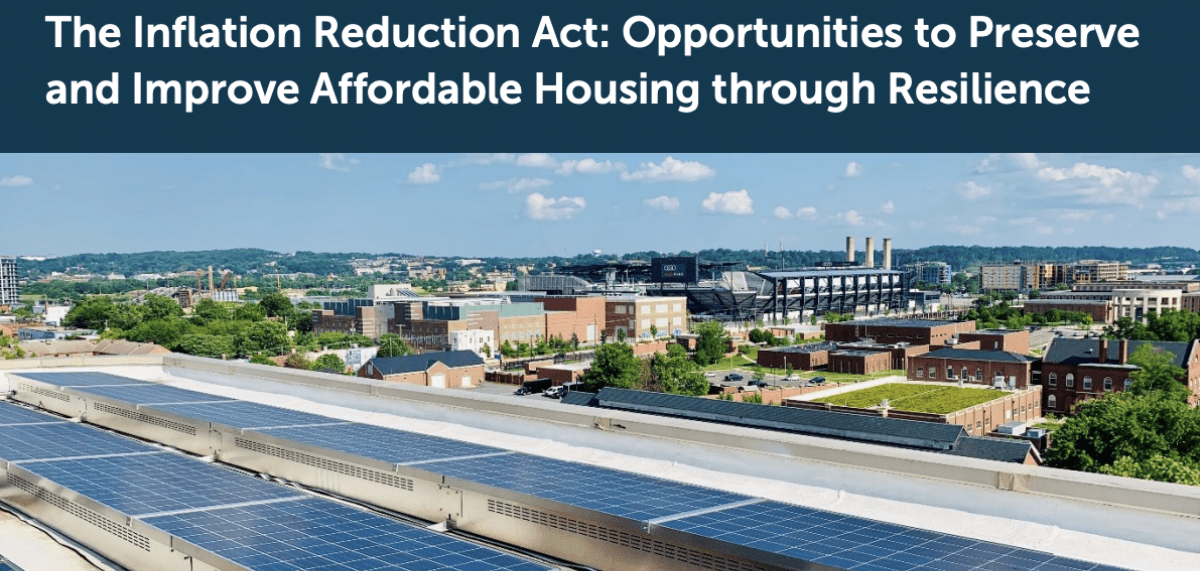 August 16, 2022
NHT Policy Brief: Key Provisions in the Inflation Reduction Act for Affordable Housing
Please read the full Policy Brief here.
On August 16, 2022, President Biden signed the Inflation Reduction Act (IRA) into law. IRA provides billions of dollars in funding through direct spending and tax credits that can be used to preserve affordable housing, reduce energy costs, and increase community resilience, including $1 billion to retrofit HUD housing.  National Housing Trust – along with many partners – led the charge to secure this funding and will work with our partners to ensure successful implementation.  While we regret that a more significant investment in affordable housing was not included in the IRA, NHT nevertheless believes that this $1 billion down payment on energy and water efficiency and resilience in affordable housing is an important step forward.
The United States cannot meet its climate goals without reducing greenhouse gas emissions from housing – and multifamily rental housing represents a critically important and impactful sector of housing. In HUD's portfolio alone, on-site energy usage results in an estimated 13.6 million metric tons of carbon emissions annually. Moreover, the EPA recently released a report clearly illustrating that low-income households disproportionately bear the brunt of climate impacts, particularly in the form of increased childhood asthma resulting from diminished air quality, increased mortality rates due to high heat, lost labor hours due to climate-related events, and lost property due to inundation.
Comprehensive energy retrofits of affordable housing of the type made possible by IRA will result in cost savings for residents and housing providers. Energy is one of the highest controllable operating costs in affordable housing. High operating costs put a financial strain on already limited operating budgets in affordable housing. Reducing energy costs allows building owners to maintain affordable rents and invest in improving housing conditions.
IRA provisions include a total of $25B of spending that is directly targeted to or can be leveraged for affordable housing. NHT encourages agency staff in HUD, DOE, and EPA responsible for implementation to consider affordable housing providers' financial and staff capacity challenges in executing energy and resiliency retrofits. In particular, program implementation should reflect the following priorities to ensure that renters equitably benefit from these investments:
• Guidance/rules should be developed after significant engagement with stakeholders, including renters, housing providers, and state and local housing agency staff.
• Given that affordable housing properties generate limited excess cash flow, programs should limit requirements for affordable housing owners to provide upfront capital or pay out-of-pocket.
• Program requirements should ensure that funding can be leveraged to implement energy and resiliency retrofits as part of a building recapitalization by providing funding commitments early in the project development and design process and coordinating program administration with state and local housing finance agencies.
• Programs should provide funding for technical assistance to help affordable housing providers plan for and implement energy and resiliency upgrades.
Read more about the provisions included in IRA and how they can be used to support affordable housing and its residents in the NHT Policy Brief, "The Inflation Reduction Act: Opportunities to Preserve and Improve Affordable Housing through Resilience."