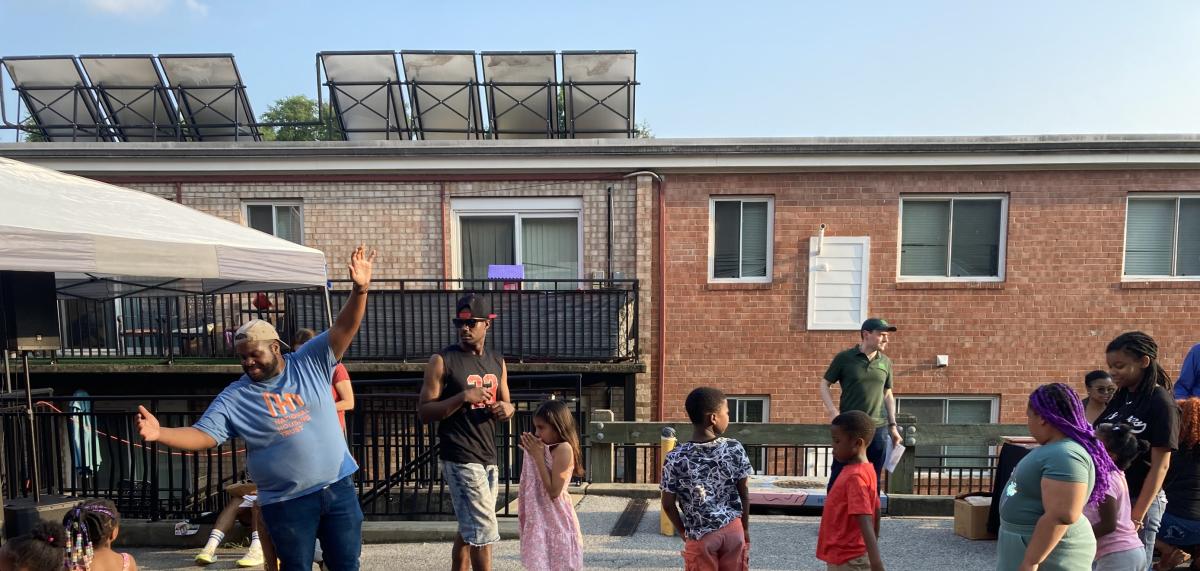 August 16, 2023
Empowering Affordable Housing: Celebrating Progress and Potential of the Inflation Reduction Act
As we commemorate the first anniversary of the Inflation Reduction Act (IRA), there is positive news for affordable housing providers and residents. Following the IRA's passage, National Housing Trust (NHT) summarized the potential impact of climate tax credits and funding to improve and preserve affordable housing. Now, it's time to reflect on the strides made over the past year.  
Federal Agencies' Milestones 
Federal agencies have diligently worked to develop the necessary guidelines to implement IRA programs. Advocates like NHT have remained engaged at every juncture, supporting policies that ensure the benefits of IRA, including lower energy bills and healthier housing, reach low-income communities. The progress made is worth celebrating. Here are some of the highlights: 
The Department of Energy (DOE) recently issued guidance for implementing $8.5 billion in funding for Home Energy Rebates. These rebates aim to reduce energy consumption and carbon emissions in homes. Multifamily buildings where over half of households earn below 80% of the Area Median Income (AMI) can qualify for rebates of up to $8,000 per unit for home efficiency enhancements and up to $14,000 per unit for high-efficiency electric appliance upgrades.

Importantly, DOE's guidance directs state implementing agencies to ensure affordable housing residents and providers can access these rebates. As acknowledged by DOE, low-income and multifamily homes have been significantly underrepresented in energy efficiency program accomplishments. Programs must be designed to overcome structural barriers that prevent low-income households from benefitting from energy rebates, as we recommended to DOE.  Some highlights of the guidance include the following:  

Each state and territory must reserve at least 10% of rebate funding for low-income multifamily households and at least 40% for low-income households;  

Rebates can be applied to fund efficiency and electrification upgrades in common areas and central systems; and 

States and territories must enforce minimum affordability requirements and tenant protections for renters. 

HUD has made significant strides in implementing the Green and Resilient Retrofit Program (GRRP), releasing a program notice in mid-May alongside three Notices of Funding Opportunities (NOFOs). The GRRP offers up to $2 billion in grants and surplus cash loans to owners receiving HUD rental assistance. Owners can access $40,000 to $80,000 per unit, contingent on the scope of energy efficiency, decarbonization, and resiliency upgrades. HUD started accepting applications in June, with further review periods through 2024 for each cohort: Elements, Leading Edge, and Comprehensive. Combined, these three cohorts provide multiple pathways for building owners to access funding tailored to the retrofit and financing needs of their property.  
EPA has also unveiled its NOFOs for funding through the Greenhouse Gas Reduction Fund (GGRF), a $27 billion investment to finance clean energy and climate projects that reduce greenhouse gas emissions, focusing on benefiting low-income and disadvantaged communities. EPA is channeling funds through three competitions: the National Clean Investment Fund, Clean Communities Investment Accelerator, and Solar for All.  

NHT and our partners recommended EPA emphasize decarbonizing affordable housing through energy efficiency, electrification, and renewable energy projects. All three competitions prioritize delivering affordable and sustainable housing through retrofitting existing buildings to achieve net-zero emissions and constructing new net-zero emission housing in low-income and disadvantaged communities. And EPA has ensured that affordable housing categorically qualifies as a low-income and disadvantaged community. This categorical definition helps to streamline access to financing and improves the competitiveness of affordable housing with other project types.  

The U.S. Department of Treasury and IRS released final rules and guidance for the Low-Income Communities Bonus Credit Program, which boosts the Investment Tax Credit up to 20-percentage points for solar and wind facilities in low-income communities. The final rules align with NHT's recommendations, including reserving 200 MWs of the 1.8 GWs total credit allocation for facilities within qualified low-income buildings and incentivizing projects that are owned or developed by community-based and mission-driven organizations. These provisions are crucial given the complexities of financing and installing solar systems in affordable multifamily housing, potentially benefiting around 66,000 households annually. 
The Path Forward 
Despite the progress, much work is ahead to ensure affordable housing providers and residents fully benefit. States play a pivotal role in implementing critical IRA programs such as Home Energy Rebates and the GGRF. Additionally, the potential of IRA resources hinges on building owners' capacity and motivation to implement sustainability measures. Technical assistance and education will be necessary to help many affordable housing providers maximize the use of IRA resources. 
NHT remains committed to engaging agencies at the federal and state levels and building owners to aid affordable housing stakeholders in accessing IRA resources. Our IRA bootcamps are underway, empowering affordable housing owners/developers and housing finance agencies (HFAs) to leverage IRA resources effectively. With 36 participating housing finance agencies and 50 owners/developers spanning 19 states, the program provides tailored information and technical assistance to help participants access IRA programs. Anyone can visit our website to view bootcamp resources, which include webinar recordings and links to IRA program information. 
As we reflect on the past year's accomplishments, we are reminded that the journey towards affordable, sustainable, and resilient housing for all remains the collective responsibility of advocates, agencies, and building owners alike. Through concerted efforts and a shared vision, we can continue to build a brighter future where the promise of the Inflation Reduction Act becomes a tangible reality for communities across the nation. 

Todd Nedwick
Senior Director of Sustainability Policy